10 Moving Tips For College Students
The Fall semester for college is starting soon and either you or your child is moving into a new dorm or apartment. Moving to a new place is exciting but stressful. Preparation is the key to reduce this stress. Let's discuss what to pack, how to pack it, when to move, what to ask before moving and more. Whether you or your student is moving across town, within the state, or moving out of state; hiring a moving company is the easiest way to do it. Here are 10 tips for moving your student into their new place.
1 – Sell Or Donate Items You No Longer Need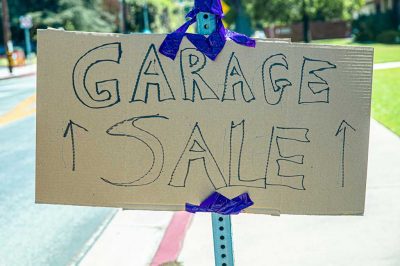 Before you started packing up your belongings, you probably sold some items in a yard sale or donated them to friends and charities. Trying to lighten your load before moving will make the move go faster and help you save some money. What about the things you want to keep but don't have room for in the new house or apartment? You're going to need to store them somewhere. Search for secure storage units that are close to your new house. Rent a unit before you arrive and ask the movers to make an extra stop to deliver your belongings at the unit. Rent a climate controlled storage unit if you intend to store any electronics, appliances, leather furniture or works of art.
2 – Pack Logically Not Sentimentally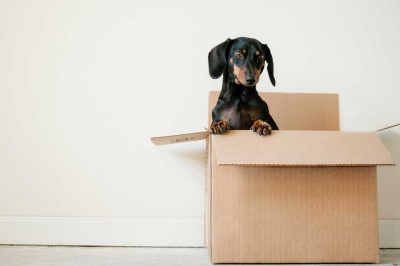 Starting your new adult life is exciting but it makes you want to hold tighter to your childhood and family life. There's nothing wrong with taking some pictures and childhood mementos but you don't need to take everything. You don't need to take all of your high school yearbooks, teddy bears, toys, posters, favorite shirts that don't fit you anymore, or the guitar you don't know how to play but someday you will. You won't have space for all of that in your dorm so just take what you need.
3 – Pack for the Semester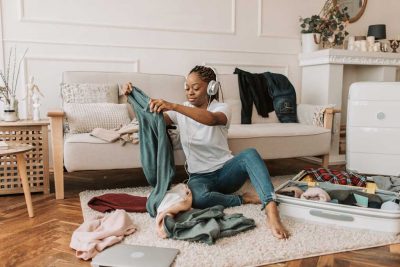 You'll save space if you pack for the semester and not a full year. You'll most likely visit home during the holidays so you can take stuff back home and pick up other items when you go back to school. The beginning of the fall semester, depending where your school is, will be warm until around late October. Pack your normal summer clothes and shoes but take a couple sweatshirts and hoodies for cool days or cold nights. Once the weather gets colder you can take your summer clothes back home and pick up sweaters, coats and winter boots. If you won't be going home then rent a storage space for the items you don't need at the moment. You can split the costs of a storage unit with your roommate or friends that need storage as well.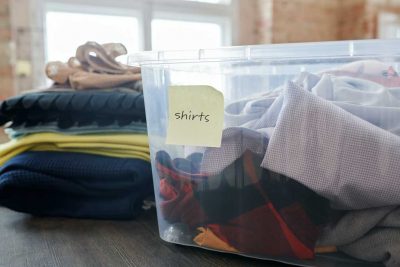 Pack your belongings in storage bins instead of boxes. Boxes will have to be removed but storage bins can stay and help you be more organized. You won't have a lot of closet space either so it's easier to keep everything in bins. You can use the bins for clothes, school supplies, bathroom necessities, personal care and anything else you can think of. Clear stackable bins are the best ones to use so you can easily see the contents and stack them in your closet or place them under your bed. You will also need a shower/bathroom caddy if you have to share a communal bathroom.
5 – Is Your Dorm Room Furnished?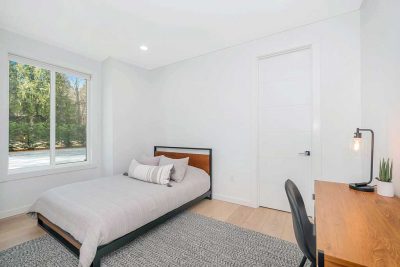 Some dorms are bare bones but most others have basic furnishings like a bed, desk, chair, and dresser. Contact your dorm representative and find out what furnishings are included. Moving will be a lot easier on you if you don't have to move a bed and large furniture if it's already provided for you. You may need smaller wares like a lamp, fan, iron, and mini-fridge. Ask ahead of time if cooking appliances like coffeemakers, microwaves, and toaster ovens are allowed in the dorm room.
6 – Contact Your Roommate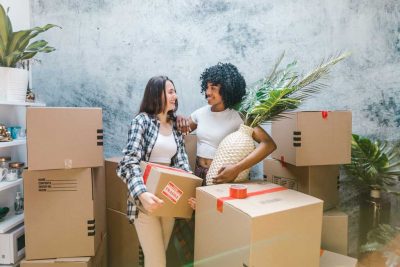 You'll be notified who your roommate will be before moving into the dorm. Contact them, get to know them, and ask what they intend to bring. This is a great way to not bring duplicate items and instead share them. Instead of both of you bringing a microwave, now only one of you has to and the other can bring a mini-fridge. You're going to have to live together so it's good to start off on the right foot and work together. You'll feel more comfortable moving into a dorm if you already know your roommate and become friends beforehand. It's also a good way to determine if the match up isn't going to work out and ask for a different roommate early on before you get there.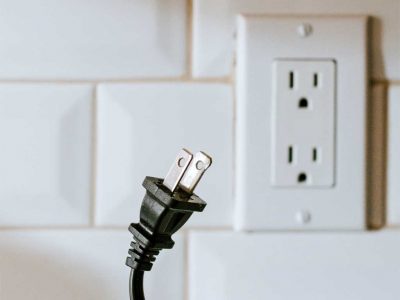 Make sure your electric, water, internet, and cable are turned on before you arrive. You don't have to worry about this if you move into a dorm room but it is something to consider if you move into an off-campus apartment or housing. Coordinate with your roommates to make sure this process is taken care of. Don't assume someone else will take care of it and you end up with no services your first days in your new place.
8 – When Is Your Move-In Date?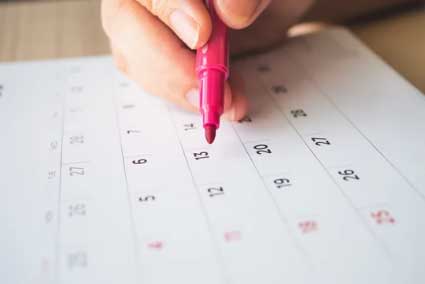 Hundreds of college students moving into their dorms on the same weekend would be chaos so move-in dates are assigned to prevent this. You will be notified the day and time of your move-in ahead of time. They'll also let you know what floor your room is on and if there is an elevator to use while moving in or if you have to take the stairs. Ask if there is specific parking you have to use or if you can unload everything at the curb in front of the dorm. You may have to give them a list of the people helping you move in so they can be allowed in and kept track of for security reasons.
9 – Inspect Your Dorm or Apartment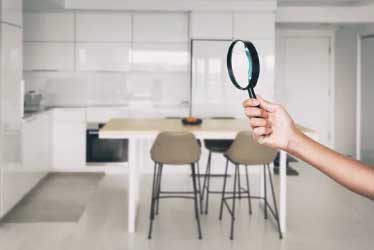 Inspect your new living space just like you would when renting a car. Take note of any damage, filth, broken appliances, non-working light fixtures or outlets and notify the dorm representative or landlord. Do this before moving anything inside the dorm so you can't be blamed and charged for it. It also gives the dorm rep/landlord time to call someone to take care of the issues before you move in. Seeing the dorm might give you insight to things you didn't bring and need to buy such as curtains, a towel drying rack, and whiteboard.
10 – Bring Cleaning Supplies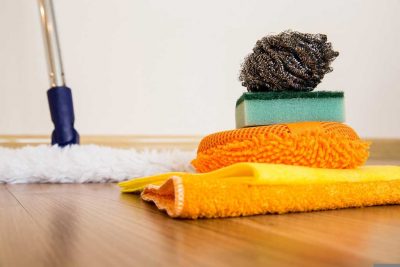 It doesn't hurt to bring your own cleaning supplies and give your dorm a once over before you move in. The room may have been cleaned before you arrive and looks good to you but a parent will see all the dust you don't see. They'll see the dust and filth along the baseboards, under the bed, on the windowsills and blinds. Let them help you clean your room because it'll be up to you to keep it clean after they're gone. The supplies you need the most are disinfectant wipes, paper towels, sponges, small trash bags, and a small broom and dustpan. The disinfectant wipes are also something you'll want to take to the bathroom with you especially if you have to use a communal bathroom.
Contact Move Logistics Inc. to help you or your college student move to their new dorm or apartment. Let us know if you need to make a second stop at a storage unit along the way. We offer services for local, intrastate, and interstate moves. Schedule a relocation date today!
ABOUT MOVE LOGISTICS INC.
Move Logistics Inc., is a second generation moving and storage business with over 35 years of experience. As professional movers, we provide open communication and customer service to both residential moving clients and commercial moving clients. With a fleet of moving equipment that includes trucks, forklifts, and trailers, combined with a professional mover crew, we are your "one-stop-shop" for local moving, intrastate moving, and out of state moving.
MOVING SERVICES
Climate Controlled & Non Climate Controlled Storage
READY TO SCHEDULE YOUR MOVE?
Only takes a few seconds to get a FREE quote from our move professionals call or fill out a form