Residential Moving Checklist
Moving can be a very complicated and time consuming process, but it doesn't have to be. We here at Move Logistic have created a guide that you can follow to have the smoothest move possible when working with us.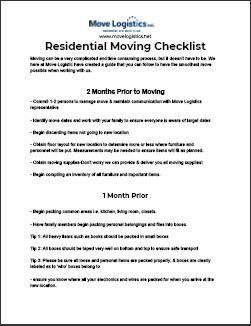 2 Months Prior to Moving
• Commit 1-2 persons to manage move & maintain communication with Move Logistics representative
• Identify move dates and work with your family to ensure everyone is aware of target dates
• Begin discarding items not going to new location
• Obtain floor layout for new location to determine more or less where furniture and
personnel will be put. Measurements may be needed to ensure items will fit as planned.
• Obtain moving supplies-Don't worry we can provide & deliver you all moving supplies!
• Begin compiling an inventory of all furniture and important items.
1 Month Prior
• Begin packing common areas i.e. kitchen, living room, closets.
• Have family members begin packing personal belongings and files into boxes.
Tip 1: All heavy items such as books should be packed in small boxes
Tip 2: All boxes should be taped very well on bottom and top to ensure safe transport
Tip 3: Please be sure all loose and personal items are packed properly, & boxes are clearly labeled as to 'who' boxes belong to
• ensure you know where all your electronics and wires are packed for when you arrive at the new location.
• Reserve elevators and loading docks for moving day if needed.
• Coordinate changing of locks and access codes for new building. This ideally would be handled before move occurs.
• Finalize floor plans, seating arrangements, and electronics placement.
Tip 4: develop a color or number system in order to label important rooms and furniture
pieces. Put onto a blueprint of new rooms for reference. Make several copies.
1-2 Weeks Prior
• Ensure every family member is 100% packed and ready to go.
• If possible, arrange a tour of the new location so that everyone understands the new floor plans.
• Ensure Electricity and A/C are connected prior to move.
• Coordinate 1-2 other people to help you manage and work with movers. Create copies of
blue prints to give to staff members who will be directing movers.
1-2 Days Before Moving Day
• Check once more that all desks, file cabinets, fridges, etc. are completely empty.
• Ensure all computers, telephones, TVs, and cables/wires are disconnected and packed.
Tip 5: Every family member should take their own immediate necessities
• Begin putting color coded or numbered labels on rooms and furniture that correlate to where they will be placed in new rooms.
• Ensure everyone knows their duties and expectations prior to moving day.
Moving Day!
• Rooms should be prepped and ready at the new location to receive their belongings.
• Upon moving, family members should stay a safe distance from movers to prevent the possibility of injuries.
• Reconnections & setups should take place after move is done to avoid delays.
• Coordinators should stay relatively stationary and prepared to help coordinate movers throughout the entire move.
• Relax! Move Logistics has you covered from start to finish!


What clients are saying
Latest News
Read about our projects and moving process
What To Know About Moving In Winter The summer months are the busiest time of the year to relocate to a new city or state. The [...]
10 Packing Tips To Help During Relocation Moving can be a stressful and overwhelming process whether you're relocating across town, to a new state, or [...]
Beware of Moving Company Scams Moving to a new house is a huge undertaking and can be very stressful. It is in your best interest [...]
READY TO SCHEDULE YOUR MOVE?
Only takes a few seconds to get a FREE quote from our move professionals call or fill out a form